Premium Frozen Yogurt & Fruit Smoothies
Get To Know Us!
We are a family-friendly self-serve frozen yogurt shop. We proudly serve delicious, premium frozen yogurt made with the finest natural ingredients.
Downtown Delights was built by three generations of women uniting as one. Our mission was to create a gathering place for families and friends in the heart of LaPorte, Indiana. We embrace our roots of a tight-knit community, welcoming hospitality, and delicious dessert.
Today, our home is located on the corner of Lincolnway and Monroe street, in a refined 160-year-old building at the center of our community's greatest events– farmer's market, holiday cookie walk, Halloween Spooktacular, music festivals, and seasonal pop ups!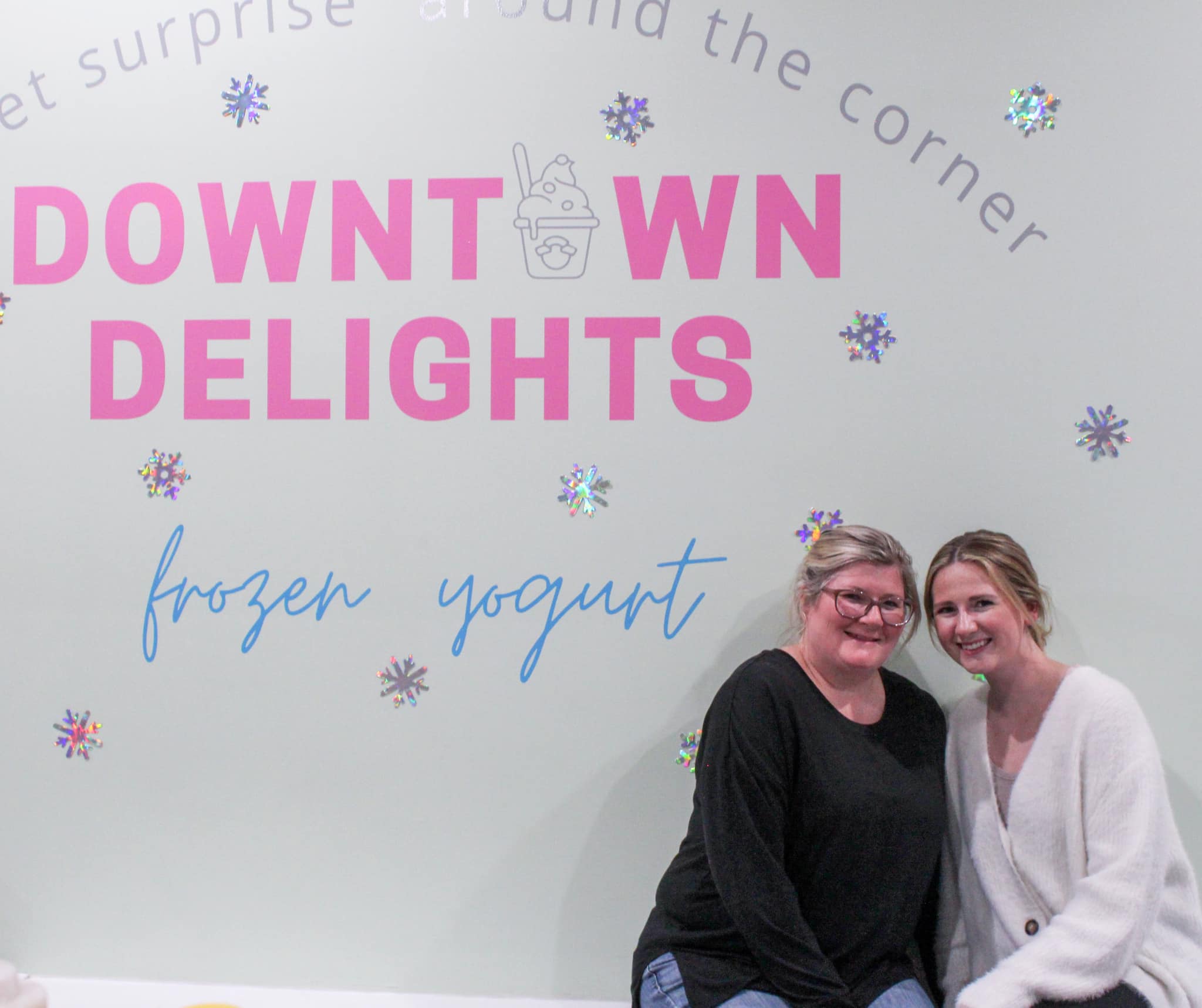 Key Lime Pie Frozen Yogurt topped with Ghiradelli Caramel & cheesecake bites.
Current Flavors & Smoothies
We proudly serve delicious, premium frozen yogurt and smoothies made with the finest natural ingredients. All of your frozen yogurt comes with your choice of assorted toppings. Come on by and try them out for yourself!
Yogurts
All yogurt is Gluten-Free. Dairy-Free & Vegan options are always available.
Black Cherry

A bold sorbet with a taste of cherry!

Cheesecake

A sweet creamy vanilla base with a classic cheesecake taste!

Classic Chocolate

Our old style classic chocolate swirl.

Cookies & Cream

A bursting flavor of cookies & chocolate.

Cotton Candy

A "taste of the summer" cotton candy yogurt.

Macaroon

A perfect blend of coconut & creamy frosting.

Mango

A refreshing dairy-free mango sensation in a sorbet-like form.

Vanilla

An award tasting creamy vanilla bean.
Smoothies
Smoothies are all-natural, dairy-free, and vegan. Free of added syrups, sugars, and dyes.
Mixed Berry

Boost your immunity with the raspberry, strawberry, and blueberry antioxidant blend.

Dairy Free | Gluten Free | Vegan

Recharge

A blast of energy from a blend of strawberry, mango, zinc, and a green-tea extract.

Dairy Free | Gluten Free | Vegan

Strawberry Banana

Packed with vitamin C, whole strawberries and bananas.

Dairy Free | Gluten Free | Vegan

Sweet Greens

Crushed mango, pineapple, and a blend of greens.

Dairy Free | Gluten Free | Vegan

Tropical

A tropical mix of mango, pineapple, pear, and orange juice.

Dairy Free | Gluten Free | Vegan
Giveback Nights
We strive to be a proud supporter of our community. Our goal is to help make our community the best place to live, work, play and dine. Right now, our focus is to support organizations through a partnership called Give Back Night. These partnerships allow us to raise funds and awareness for your cause. On our Give Back Nights, we pledge to donate 15% of sales to those who are there to support your organization. And, we will help get the word out by sharing on our communication channels, social platforms, and co-hosting a Facebook event with you so you can share with your friends, family, and your supporters.